Charity has been the first principle of the Knights of Columbus, since it's founding. We are men of faith and men of action.
Brother Knights are encouraged to actively participate in Council events, activities or on a Committee. If you are interested in working with the Communications, Program or Membership Committees or with another program area such as Church, Council, Social Events, Pro Life, Youth or Community, send an email to: grand.knight@koccolumbiamd.org.
Keep your membership information up-to-date.  Click update your membership information electronically to update your contact information. Estamos actualizando al registro de nuestra membresía.  Haz clic aquí para actualizar tu información electrónicamente.
La caridad ha sido el primer principio de los Caballeros de Colón desde su fundación.  Somos hombres de fé y hombres de acción.
Promovemos a hermanos Caballeros a participar activamente en los eventos y actividades del Concilio, o en uno de sus Comités.  Si estás interesado en trabajar con los Comités de Comunicaciones, Programa o Membresía, o en alguna otra área del programa tal como la Iglesia, el Concilio, Eventos Sociales, Pro Vida, Juventúd o Comunidad, envíale un correo electrónico a:  grand.knight@koccolumbiamd.org.
Upcoming Council Events:
Business Meeting - Tuesday, December 10 at 8:00 p.m.; WLIFC
Christmas Party – Friday, December 13, 2013 at 6:30 p.m.; Shrine of St. Anthony's, Ellicott City
Adoration of the Holy Eucharist - CANCELED for December
December Social Meeting - CANCELED
Cick here to view our event calendar for more upcoming events / Haz clic aquí para ver nuestro calendario para más eventos inminentes.
News:
Columbia Council's annual Christmas party will be held on Friday, December 13, 2013 at the Shrine of St. Anthony in Ellicott City.  Mass will be held at 6:30 p.m. and the party will begin after mass. Cost to attend is $30 per person.  Contact Harry Lis for more information.
Read the August/September issue of the Late Knight News newsletter.
Lea la edición de Agosto/Septiembre de la hoja informativa "Late Knight News"
Read monthly article from our Insurance Agent, Leo DesBiens / Lea el artículo mensual de nuestro Agente de Seguros, Leo DesBiens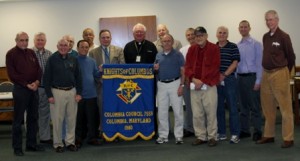 Mary,

Queen of the Knights (Rev. R. F. Hopkins) / Maria, Reina de los Caballeros (Rev. R. F. Hopkins)
Our Lady, Queen of the Knights, bless all the activities of our Order. Keep us true to the pledge to extend the kingship of thy Divine Son on earth. Through Thine intercession, win for us the grace ever to exemplify in our public and private lives, the virtues which should characterize those specially dedicated to the service of the heavenly court. Make us always aware that as your Knights we are constantly observed, our faith judged and our Order appreciated. Accept, O Mary, this renewed pledge of fealty and devotion of thy servants, the Knights of Columbus.
Nuestra Señora, Reina de los Caballeros, bendiga a todas las actividades de nuestra Orden.  Guardanos verdaderos al compromiso de extender al reinado de tu Hijo Divino en la Tierra. A través de Tú intercesión, gana para nosotros la gracia eterna para así ejemplificar en nuestra vida pública y privada las virtudes  que deberían caracterizar especialmente a aquellos dedicados al servicio de la corte celestial.  Haznos siempre atentos que al ser sus Caballeros, somos siempre observados, nuestra fé juzgada y nuestra Orden apreciada.  Acepte, O María, esta promesa renovada de vasallaje y devoción de tus sirvientes, los Caballeros de Colón.