On September 24, 2013, Gary Stradone, Certified Health Coach, was the guest speaker during the Council's social meeting.  Gary presented on the Take Shape for Life Program which looks at a comprehensive approach to weight loss, healthy eating and good health habits.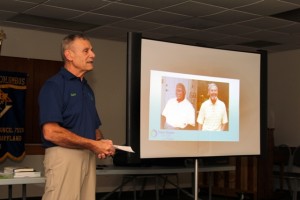 Maintaining a healthy weight can lower your blood pressure, cholesterol and sugar, improve your sleep, and possibly reduce the amount of medication you are taking – all leading to an improved quality of life.
Just a 10 percent reduction in your weight lowers your risk of disease by over 50 percent—and that risk continues to drop as you reduce your BMI (body mass index) below 25. In fact, the only drawback to weight loss that I've ever encountered is that you'll have to spend money on a new wardrobe!
If you are interested in losing weight and keeping it off, improving your health, and FREE Health Coaching, contact Gary Stradone, Certified Health Coach at gstradone1@verizon.net.